If you own a rental property, chances are you've considered listing it on Airbnb, VRBO, or both. While both of these sites can be a great way to find short-term renters and earn a little bit of cash on the side, listing your home with these businesses is a little bit different than renting your house out yourself.
The most obvious difference is that these sites are designed for short-term rentals, as opposed to finding long-term tenants. Because of this, there are some considerations to make when furnishing a home you intend to list for short-term rentals on Airbnb or VRBO as opposed to one you want to rent out for longer periods.
How Much Does Furnishing an Airbnb Cost?
Like most things, the cost in this scenario is based on several key factors. How large is the home? Where is the home located geographically? Are you purchasing new furniture or used furniture? What is your design style?
For example, if you're furnishing an opulent 6-bedroom ski lodge in Aspen, you're probably looking to curate an experience that oozes luxury, given that's what your guests will be expecting. In this case, you could easily spend tens of thousands furnishing your Airbnb rental.
If you're looking to furnish a two-bedroom beach cottage, you're probably looking to create an atmosphere that's casual, comfortable, and cozy. In this scenario, you can probably get away with spending $10,000 or less on furnishings. In the end, the price you'll pay to furnish a VRBO or Airbnb is ultimately up to your style and preferences.
Should I Hire an Interior Designer to Furnish My Airbnb?
This is another question that can really only be answered by your budget. If you have the money to spend on an interior designer and don't want to take on the burden of measuring, selecting, and ordering furniture yourself, then, by all means, hire a professional.
That said, most people who own rental properties aren't afraid of a little hard work. Decorating yourself may be a little bit more of a challenge, but it can be a fun experience that will allow you to put your unique spin on your rental home and save you a ton of money in the process.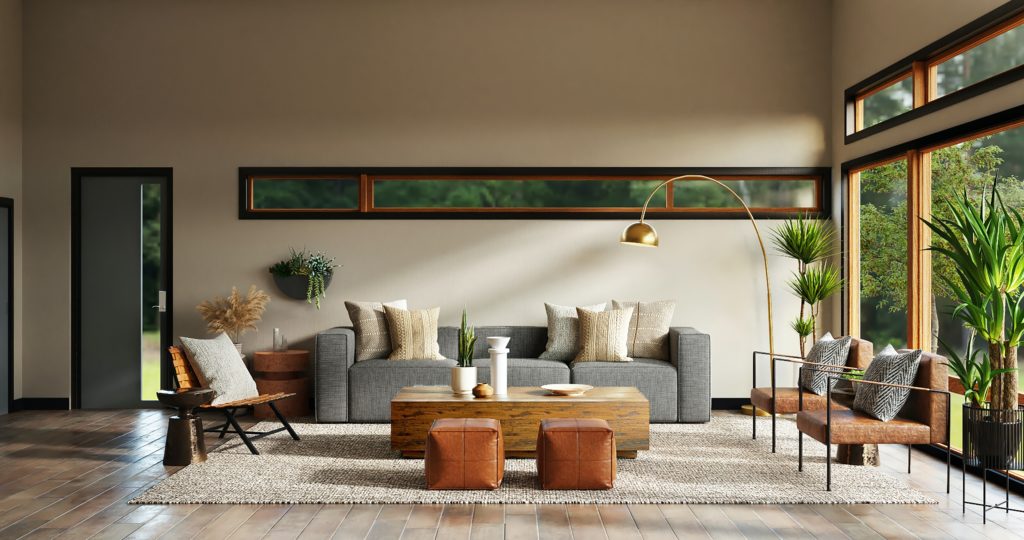 Pre-Shopping Tips for Airbnb Furnishings
Before you head out to the furniture store, you'll want to get organized. Check our list below and keep these things in mind as you prepare to shop for furniture for your VRBO or Airbnb:
Consider your target customer before selecting furniture. Are you expecting to rent to families? Couples? Solo travelers? Knowing your target customer can help guide your style and design choices. It can also help you determine the quantity of furniture you'll need, e.g. how many beds, sofas, etc.
Figure out your budget, so you don't spend more than you mean to. Nobody likes going over budget. Set a realistic range you want to keep your spending within and make sure you stick to it while shopping. Sometimes it helps to set two budgets; one for the things you must buy, and one for things you want to buy.
Don't limit yourself to one type of shopping experience. Yes, you can find plenty of items for cheap on Facebook Marketplace and Craigslist, but it's unlikely you'll find everything you need online. Open yourself up to visiting local furniture stores, like Bowden & Carr, as well as upcycling items. This will allow you to find the perfect blend of quality, useful, and budget-friendly furniture.
Choose your theme or color scheme before you go shopping. Or at least have several complementary colors in mind. If you neglect to do this, you're much more likely to end up with furniture in all shades and hues that just… don't go well together. Come up with some colors or a theme (beachy, woodsy, etc.) you like and look for furniture that matches that aesthetic.
Don't overshop, because a crowded room will make your rental look and feel smaller. It also creates more opportunities for someone to trip and fall and only adds to the amount of furniture you need to clean, care for, repair, and replace over time. Focus on buying the essentials that each room needs as opposed to buying items based on looks alone.
Purchase furniture that's easy to clean and care for. Frequent, short-term rentals mean a much higher rate of wear and tear for your furniture. While a certain amount of dirt and dust build-up is to be expected, and spills and stains do happen, you can make cleaning up easier for yourself. Both La-Z-Boy and Rowe Furniture, two of Bowden & Carr's top brands, provide a variety of easy-to-clean fabrics. Find out more by shopping La-Z-Boy's iClean™ line or Rowe's Kid Proof fabrics, and order your custom piece through Bowden & Carr.
Prioritize comfort over style. Your guests are most likely renting your VRBO or Airbnb because they're looking for a relaxing getaway. Whether they're staying a week or a weekend, the last thing you want is to receive reviews admonishing your home for its uncomfortable furniture. Choose sofas and recliners that are soft while offering adequate back support, and opt for mattresses that leave your guests feeling like they're sleeping on a cloud. Trust us; your rental home's review page will thank you.
Choose functional furniture that includes enough storage. When someone rents a VRBO or Airbnb, they do it because they're looking to vacation in a place that makes them feel at home. Hotels, with their cookie-cutter decor and limited space, don't exactly come off as homey. In addition to high-quality furniture and classy decor, you can set your rental home apart by making sure your furniture provides plenty of storage for your guests. This can easily be achieved by choosing dressers with multiple drawers, beds with under-bed storage, and decor that includes hooks to hang up things like keys, bags, or bathrobes.
Safety first, always. Remember, you don't know who will be renting your property, but chances are, at some point, your guests will include children and elderly individuals. When choosing furniture, keep your more delicate guests in mind. Look for items that aren't likely to trip or fall over and avoid pieces that include sharp corners or features that can result in a tripping hazard.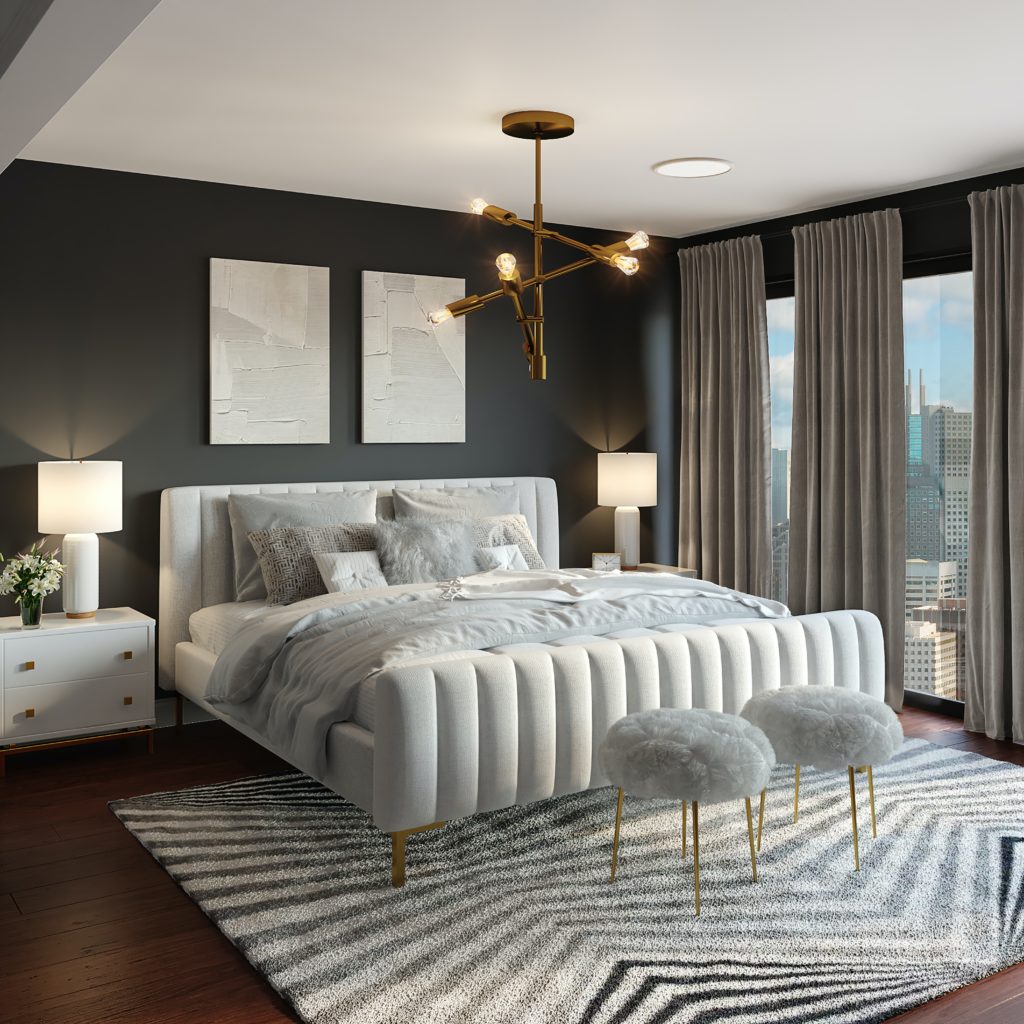 Do's and Don'ts for Airbnb Furniture Shopping
Now that you've got the basics in mind and your budget is set, it's time to hit the stores. While shopping, keep the following tips in mind. Remember, choosing the right furniture for your Airbnb or VRBO rental is crucial, as you'll want it to stand up to heavy use, look nice in your listing photos, and offer a sense of comfort to your guests.
Sofas and Recliners
Do:
Purchase pieces with washable covers

Choose pull-out couches when possible

Buy real leather (if it fits with your style/budget)
Don't:
Buy faux-leather upholstery

Ignore consumer reviews regarding comfort

Forget to measure your space
TVs
Do:
Choose a smart TV

Go for a high-resolution model

Put your TV on a stand
Don't:
Spend thousands on a TV for a rental home

Wall mount your rental's TV

Buy a TV so large it dominates the room
Dining Room and Coffee Tables
Do:
Look for coffee and

dining room tables

that offer under-table storage

Match your tables to your overall color scheme/decor

Purchase enough dining room chairs to accommodate your max number of guests
Don't:
Spend too much money on fancy woods and finishes

Buy a dining room table that is too large to navigate around comfortably

Buy tables with sharp edges/corners
Lighting and Lamps
Do:
Choose lighting that makes each room feel cozy

Use lamps as decor pieces

Include ceiling fans when using overhead lighting
Don't:
Choose large or heavy floor/table lamps that can easily be knocked over

Purchase glass lamps (when possible)

Use fluorescent lighting
Beds and Mattresses
Do:
Focus on comfort, above all else

Choose beds with under-bed drawers/storage

Purchase bedding that is comfortable and easy to clean
Don't:
Spend thousands on a single mattress

Forget to include plenty of extra pillows and blankets

Choose bed frames that are too high or too low to the ground
Outdoor Furniture
Do:
Look for pieces that are sturdy but can be easily moved if need be

Choose weather-proof fabrics

Include outdoor storage items (e.g. storage benches)
Don't:
Buy lightweight furniture that can be blown around in high winds

Purchase items that aren't appropriately treated to withstand the elements

Forget to purchase enough cushions (and extras) for each seat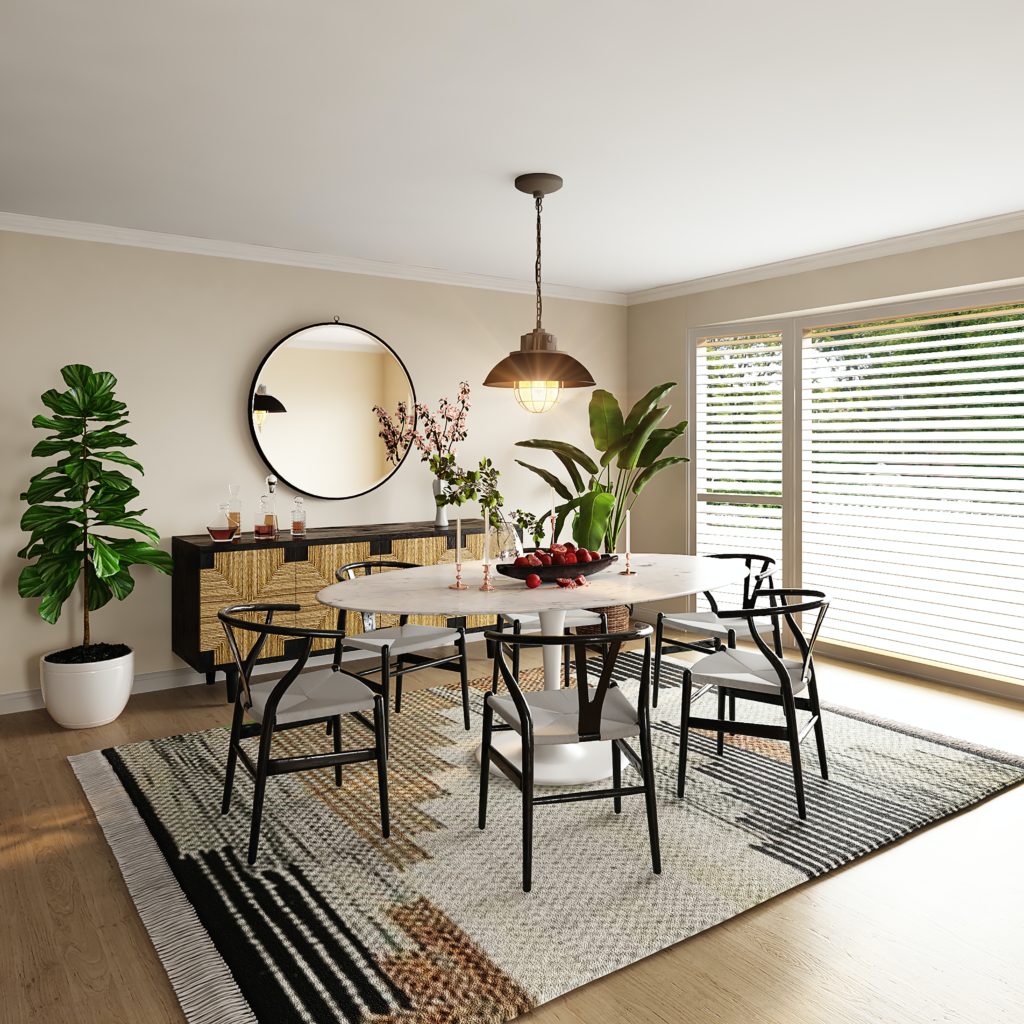 Easy Checklists for Airbnb Furniture Shopping
We know that this has been a lot of information to take in so, to help make your first shopping tip an easy one, we've come up with a few simple checklists to help you make sure you get the essentials for your new Airbnb or VRBO listing.
Living Room
Sofa

Armchairs/recliners

Lift chairs (for elderly guests)

Coffee table(s)

TV/TV stand

Area rug

Lamps

Bookshelf
Dining Room 
Dining table

Enough chairs to accommodate your max guest count

Over-table lighting

Area rug
Bedroom(s)
Bed frames (with storage)

Mattresses

Bedding/linens/pillows

Extra blankets and pillows

Dresser and/or wardrobe

Nightstands

Blackout curtains

Bedside lighting

Vanity mirror and/or full-length mirror

TV/TV stand (if in your budget)
Kitchen
Major appliances (fridge, oven, microwave, dishwasher)

Coffee maker

Pots and pans

Cutlery

Cups and mugs

Cutting board(s)

Wine/bottle opener

Can opener

Trash can
Bathroom(s)
Hand towels

Bath towels

Washcloths

Bath mat

Mirror

Toilet paper holder

Trash can

Toilet brush/plunger set
Outdoor Furniture
Outdoor dining table

Patio chairs

Umbrella

Outdoor rug
Ready to furnish your VRBO or Airbnb rental? Bowden & Carr has everything you need to get started, from essentials like sofas and recliners to decor, including area rugs and lamps. Visit us in Havelock, NC, or contact our team today by clicking here.