We've made it to the end of yet another chilly North Carolina winter and have arrived at one of the most exciting parts of the year – Spring!
Though there's never a bad time to redecorate your home, spring is the time of year when all of the furniture industry's top designers and decorators are busy collecting the top trends for the new year. That fact combined with the mindset of "spring cleaning", when we go through our homes and ditch the old in favor of the new, makes spring the perfect time to purchase new furniture for your home.
While there are certainly some styles that are widely regarded as "timeless", there are also many that have a time, place, and season. This year is no different because 2022 is bringing with it some fantastic new furniture and decor trends to give your home new life.
2022 Furniture Trends
Without further ado, let's find out what the top spring furniture trends are for 2022.
Shades of Brown
There are so many stunning brown tones to choose from. From chocolate to caramel to coffee and everything in between, brown hues are going to be big this year. Designers attribute part of brown's rise to popularity with a decline in the use of other neutral colors. Brown tones provide a sense of elegance and class while bringing in some of the more rustic colors associated with nature. Plus, brown goes with plenty of other colors, so you can accent your brown furniture with warm-colored pillows and throws in oranges, reds, and golds.
Leather is Better
Designers are harkening back to the days of the 1970s and 80s when times were simpler and leather was a common type of upholstery found in the typical American home. Aside from the warmth and richness that leather inherently brings to a space, it's also well known for its ability to provide a supple, comfortable place to relax that's durable enough to stand up to the test of time, kids, and pets. The best part is that Bowden & Carr has plenty of sofas, sectionals, and recliners to help you get your leather fix.
Going Green
Green is going to be huge in 2022. You'll likely find that every major furniture brand is putting out new green colors and patterns to help stay on top of this trend. From bright, citrus greens to deeper, emerald hues, you really can't go wrong with a new green sofa or chair to spruce up your living room. Adding some green to your home is also in keeping with our next trend.
Bringing the Outdoors Indoors
Sure, you can buy a few succulents or a new snake plant to place around your home, or you can work to incorporate nature in other ways. In 2022, the world's top designers say that bringing nature-themed prints into your home is, well, natural! You can do this a number of ways but our personal favorite is by searching for upholstery and textiles with floral or nature-themed patterns.
Bold and Bright
Speaking of bold colors and patterns, one of this year's top furniture trends involves abandoning neutrals in favor of big, in-your-face color schemes. It's also another great opportunity to work in nature and green hues! Consider using green or brown as your base color scheme for recliners and sofas, and incorporating bright floral pinks, oranges, and purples as accents through vases, pillows, rugs, and art. Wallpaper is another trend that's very "in" right now and offers a great way to use more color throughout your home.
Ahead of the Curve
According to the experts, boxy, minimalistic styles are out and seductive, curvy styles are in. While sharp corners can give your room an inhospitable look, curved and rounded furniture welcomes you into the room and gives it a warm, safe feel. If you're looking for a new sofa or La-Z-Boy recliner and you want to keep up with this year's trends, look for pieces that have curved backs or rounded, sloped arms. Love it or hate it, curvy furniture offers a sensuality that your home might be lacking.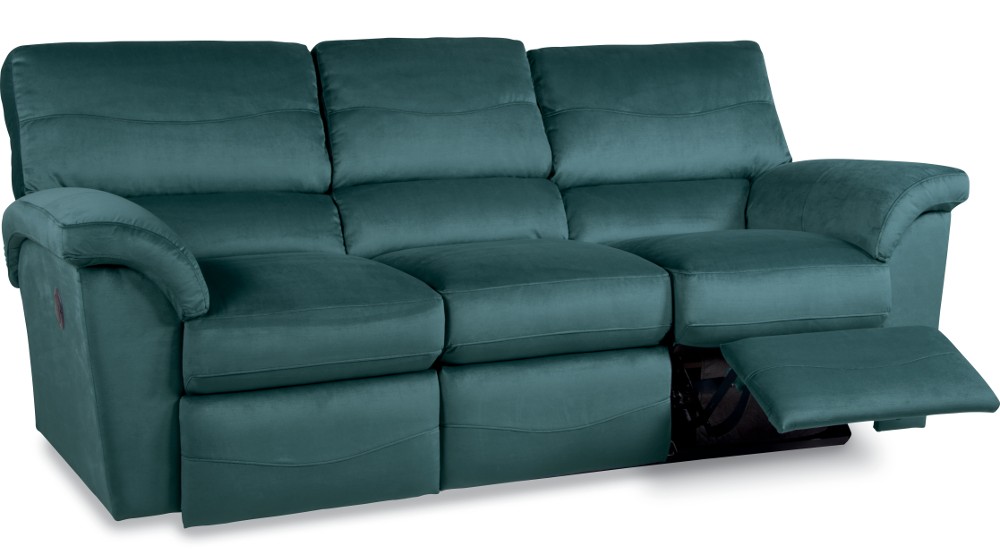 Your Personal Retreat
If there's anything that COVID-19 taught us, it's that we value being comfortable when we're in our homes. One of this year's trends is to translate this knowledge into creating a one-of-a-kind space where you can truly relax and lay back. Whether it's your bedroom, living room, or another room in your house, 2022 is your year to buy some cozy furnishings and create a room that is restorative and therapeutic.
Multifunctional Spaces
Not to bring up COVID again, but the pandemic also taught us that our living spaces can quickly become our working spaces at any given moment. Gone are the days of single-use rooms. Now is the time to optimize each room in your home to make sure it suits all of your family's needs. Whether that's outfitting your bedroom with a desk and some extra storage or making sure that your home office can double as a guest room when need be, 2022 is the time to get certain rooms in your home ready for double duty.
American-Made Design
While purchasing from within the USA has long been a focus for many consumers, recent supply chain issues have taught us that buying from American companies is often a more economically efficient option. By ensuring you purchase furniture made in the U.S., you're not only supporting your fellow Americans and boosting the economy, but you're also increasing the likelihood that the products you ordered won't be delayed due to supply chain issues. At Bowden & Carr, we're proud to supply furniture from American-based companies like La-Z-Boy, McKinley Leather, Canal Dover, and Y&T Woodcraft.
Mix it Up
The trendsetters have spoken and the results are in: using a single design style is boring. Instead, 2022 is the year of mixing and matching. If you like farmhouse and boho styles, tie them together! Big fan of industrial and abstract design? Go for it. If you didn't feel like you could before, know that now is the time to mix and match colors, materials, woods, stones, and textiles to create a unique design that you absolutely love.
Don't Forget the Foyer
Last but not least, this year's design trendsetters want you to take a look at a room in your house you probably don't pay that much attention to – the foyer. It seems easy to ignore, but when you think about it, the foyer is the very first thing people see when they enter your home. Do you want their first impression to be that your home is lackluster and barren or rich and exciting? If your answer is the latter, consider spicing up the foyer with something like a buffet table, warm lighting, and interesting art to welcome guests into your home in style.
What's Out of Style in 2022?
We can't end this article without talking about furniture trends that you should ignore in 2022. So lets' take a look at styles you should leave behind this year.
Fast Furniture
While cheap and convenient, fast, flat-packed furniture solutions just aren't in anymore. Their quality leaves much to be desired and they can end up looking just plain cheap. Instead, invest in sturdier furniture that will last longer and give your home a more luxurious feel.
Greyed Out
Grey was the "it" color for a long time there. Now, it's just the "out" color. While that's not to say there's something wrong with a grey accent here and there, it may be time to paint your walls or update your sectional from a drab grey color to something with a little more pizzaz.
Minimalism
Less can still be more but, in a design sense, it's not. Instead of dull, minimalistic designs, this year's trend will be to adopt a style that's more maximalist. Whether you achieve that through bright colors, playful texture, or curvy furniture is up to you.
Monochrome is Dead
If we have to see another all-white room we're going to be very sad. Fortunately, since monochromatic color schemes are all the way out, it's unlikely that we'll see anything but bright and varied color schemes for a long time to come.
Stylish Furniture For Your Home
Bowden & Carr has been keeping up with southeastern North Carolina's furniture needs for many years. Whether you're looking for a cozy sofa, a convenient lift chair, or a comfortable recliner, we can help you find a solution that's stylish and affordable. Contact our team today at 252-447-3648 or visit our Havelock, NC showroom to start sprucing up your home with the latest spring trends.