It's about time for holiday celebrations and gatherings. When you host family and friends this holiday season, you'll want them to feel comfortable and relaxed. What better way to create comfort than to design a warm and inviting guest bedroom?
With our guest room furnishing tips, you'll be equipped to style a guest bedroom that will feel like a luxury hotel or bed and breakfast.
1. Choose a medium-firm mattress.
Nothing ensures a good night's rest more than a comfortable mattress. That's why it's important to find a mattress that suits a wide range of sleeping preferences. Take a cue from "Goldilocks and the Three Bears." No guest wants a bed that is too hard or too soft. With a medium-firm mattress, you can treat your loved ones to a bed that feels just right.
2. Invest in luxurious bedding.
High-quality bedding is simply one of the best ways to pamper your guests. With cotton, high thread count sheets and a comfy duvet or quilt, they'll be living the life of luxury. To finish your bedding ensemble, extra pillows and blankets can add a wonderful splash of color and a sense of comfort to the space.
3. Opt for twin beds.
If your honored guests are children or single adults, try furnishing your guest bedroom with two twin beds. You can make the set of smaller beds just as inviting as a full, queen, or king bed by embracing the symmetry and buying two sets of the same sheets and quilts.
4. Factor in additional furniture.
Want to know how to give your guests a truly first-class experience? Provide them with more than just a bed. Here are some extra furniture ideas that will go a long way:
Bedside tables: These offer guests a place for personal items — phone, glasses, a reading book, or a glass of water. And if you set a reading lamp on the table, your guests will feel free to go to bed at their own pace, snuggling up with a book before going to sleep.
Closet, wardrobe, dresser, or chest: Nobody likes living out of a suitcase. If you don't have a built-in closet where your loved ones can hang their clothes, consider offering them a wardrobe, dresser, or chest (especially if they'll be staying more than 2 nights).
Comfy chair: Although your guests came to visit you, they may appreciate moments of alone time now and then. Adding a comfortable chair or two in your guest room can provide the space your loved ones need to catch up on emails, read a book, or drink a morning cup of coffee.
Vanity desk: Give your guests everything they need to get ready with a simple desk, adorned with a chair, lamp, and mirror.
Foot-of-bed bench: A simple bench at the foot of the bed will offer your visitors a stylish place to store their suitcase.
5. Pick an inviting theme.
Before you choose any furniture or decorations for your guest bedroom, decide on a theme that will really welcome your guests into your home. If you're going for a clean, airy theme, you can furnish with lots of whites, accent colors, and plants. Or, for a warm, colorful theme, you can choose patterned items and adopt a bold color scheme. No matter your theme, your guest bedroom decorations should be subtle and sophisticated, with a focused color scheme and a slight personal touch.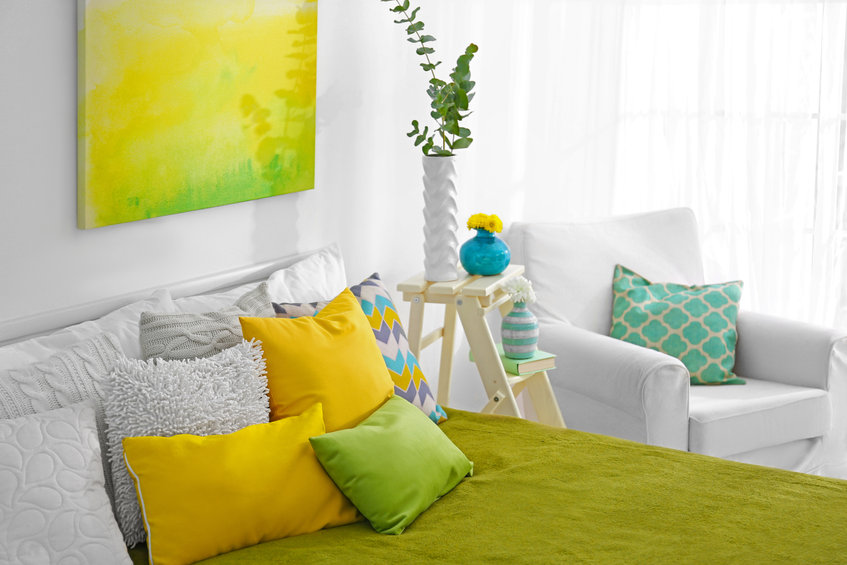 6. Add a pop of color.
It's time to give your plain guest room a colorful update. When you pick your theme, lock down a tight color scheme. The guest room is the perfect place for you to push style boundaries, experimenting with bold colors and patterns. Remember, bold decorations work best when used to accent calmer, lighter colors (like whites and tans).
7. Identify the right kind of lighting.
Like color, the right lighting is linked closely with your chosen theme. With almost any theme, natural light creates a welcoming atmosphere for your guests during the day. Then, at night, warm lighting fixtures add a sense of comfort to a rustic or floral room, and bright recessed lighting enhances the elegance of a clean, airy room.
8. Find quality drapes or blinds.
Although natural light is a great invitation, it can also be a nuisance if your visitors would like to get extra hours of morning sleep. To give your guests the freedom to get some true rest and relaxation, dress the bedroom windows with drapes, blinds, or shades that effectively block out the sun and add color and depth to the room.
9. Add subtle touches to welcome your guest.
Remember, your ultimate goal is to make your guests feel welcome. Here are several simple things you can do to pamper your guests:
Clean the room thoroughly.
Light a candle or start a diffuser.
Leave out clean towels and toiletries.
Stock the bedside table with magazines and books.
Adorn the room with plants and fresh flowers.
Provide snacks and water.
Leave special treats or candy on the pillows.
10. Don't forget the pets.
It means a lot to pet-owners when their loved ones remember to include their four-legged family members. You can really go above and beyond for your visitors by providing accommodations, like a dog bed, treats, and food and water dishes.
Want a comfortable chair, bedside table, or vanity desk for your guest bedroom? Bowden & Carr offers a wide range of quality chairs, recliners, desks, and tables to fit your guest room furnishing needs. Stop by or check out our website to browse our selection.