As we approach cooler fall and winter weather, you'll probably be spending more time indoors. What could be better than relaxing and snuggling up in a cozy recliner chair? These days, recliners come in a greater range of styles and have a larger variety of features than ever before.
But which style is right for your home?
1. Rocker Recliner Chair.
Ready to relax? Rocker Recliner Chair are traditional favorites because of their relaxing back-and-forth motion when not reclined. Nursing mothers and parents of young children favor rocking recliners because they offer an easy way to soothe children to sleep. Rocker recliners typically come with traditional handles for reclining.
2. Power Recliner.
Want to recline with ease? Power recliners ditch the traditional recliner handle for power buttons that allow users to recline to the perfect angle electrically. If you'd like greater control over the recline angle or want to avoid having to close the footrest with your feet to get up, a power-controlled recliner is perfect for you. And if you're worried about the cords showing, just cover them up with a sleek TV stand or end table.
3. Push Back Recliner.
Searching for a stylish, comfortable chair? Push Back Recliners are the latest trend because they allow users to recline effortlessly without a lever or button. To recline, occupants need only lean back and apply slight pressure on the back of the chair. They look like classic armchairs when not reclined and are easy to style into any home.
4. High Leg Recliner.
Looking for a sleek recliner for your home? High-leg recliners are some of the most elegant recliner options, coming in a wide variety of styles that will fit any home. More often than not, high-leg recliners come with the press-back recline mechanism, without a visible handle or button.
5. Wall Hugger Recliner.
Have a small living space? Some recliners take up a large amount of space. Because they sit straighter, wall-hugger recliners can be pushed up against the wall when not in use, providing recliner-lovers a good space-saving option. If you have a small living space, a wall-hugger recliner may be the way to go.
6. Swivel Recliner.
Prefer a greater range of motion? With circular bases, swivel chairs give users full range of motion. When not reclined, occupants can swivel these recliners left to right. In many instances, swivel chairs will spin an entire 360 degrees, making them perfect for a cozy home office.
7. Power Lift Recliner.
Do you struggle getting in and out of deep-seated chairs? These special power chairs have a mechanism that lifts the seat of the chair up from a seated position to a nearly upright position, helping users transition between sitting and standing more easily. Many doctors recommend lift recliners for the elderly or other people with weak knees, hips or legs.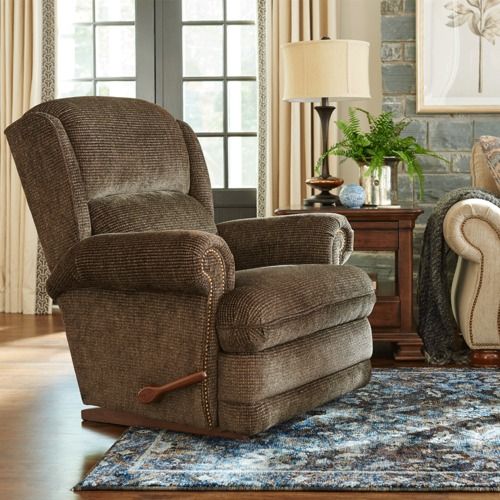 How to Choose the Right Recliner
Now that you know what types of recliners are out there, we've compiled some tips to help you decide which type works best for you.
Take measurements of the space your recliner will be going in so that you can compare the measurements to the recliners we have available.
Test them out by coming into our Havelock, NC furniture store and sitting in them yourself!
Consider your home's style when choosing colors, fabrics, textures and type of recliner.
Come prepared with a list of features you want, such as power reclining, rocking motion, massage capabilities, built-in USB charging, cup holders and more.
Don't neglect the classics if you're having a hard time choosing a customized chair. We have plenty of standard options available that you can choose from without having to do any customizing at all!
Looking for a comfortable and stylish recliner? We have good news for you! Bowden & Carr offers a wide range of quality La-Z-Boy recliners. From rockers to lifts, we've got you covered. Stop by or check out our website to browse our selection of high-quality recliners.