Is your dining table out of date or falling apart? Is it time for an upgrade? Whether you spend your holidays serving and eating delicious food, playing board games with family and friends, or just catching up with your loved ones, a good dining table is essential for your special holiday traditions.
We've put together some tips for you to choose the perfect dining table to fit your home and style.
1. Think about purpose.
How do you plan to use your new dining table? If you host large gatherings or enjoy playing board games, you may want to go with a large, rectangular table. If you favor intimate gatherings, a smaller table may be right for you. If you'll use your table as a desk or work space as well, your table should offer enough space to comfortably complete those tasks.
2. Consider size & space.
It's important that you fit your table to the space in your home to maximize functionality and create an inviting aesthetic. Before you buy your table, take measurements of the space where your table will go. Your dinner guests need plenty of breathing space to feel relaxed and comfortable. We suggest at least 42 inches of space between the table edges and any walls or furniture.
3. Strive for balance.
Make a plan for the arrangement of the table in the space. A table that is too large for its room can cause the space to feel cramped, and a table that is too small probably won't serve as the focal point you're hoping for. Think about the positioning of existing furniture in your home and how it will relate to your table. And don't forget to plan how you'll get the table into the space, especially if your home has narrow door frames and hallways.
4. Pick the shape strategically.
Different table shapes are better suited for different spaces. Not only does shape affect space and balance, but it can also dictate the style of the room.
Rectangular Tables — Traditional rectangular tables can be used to split up large open-plan spaces, but they also work well in long, narrow spaces. They are best for big gatherings.
Square Tables — Square tables are typically well-suited for smaller, square-shaped rooms. They add symmetry to a space and are perfect for intimate gatherings.
Round Tables — Like square tables, round tables work well for small gatherings in smaller spaces. Keep in mind that round tables with pedestals can seat more guests more comfortably than tables with regular legs.
Oval Tables — Oval tables use space more efficiently than rectangular tables, but maintain a traditional style.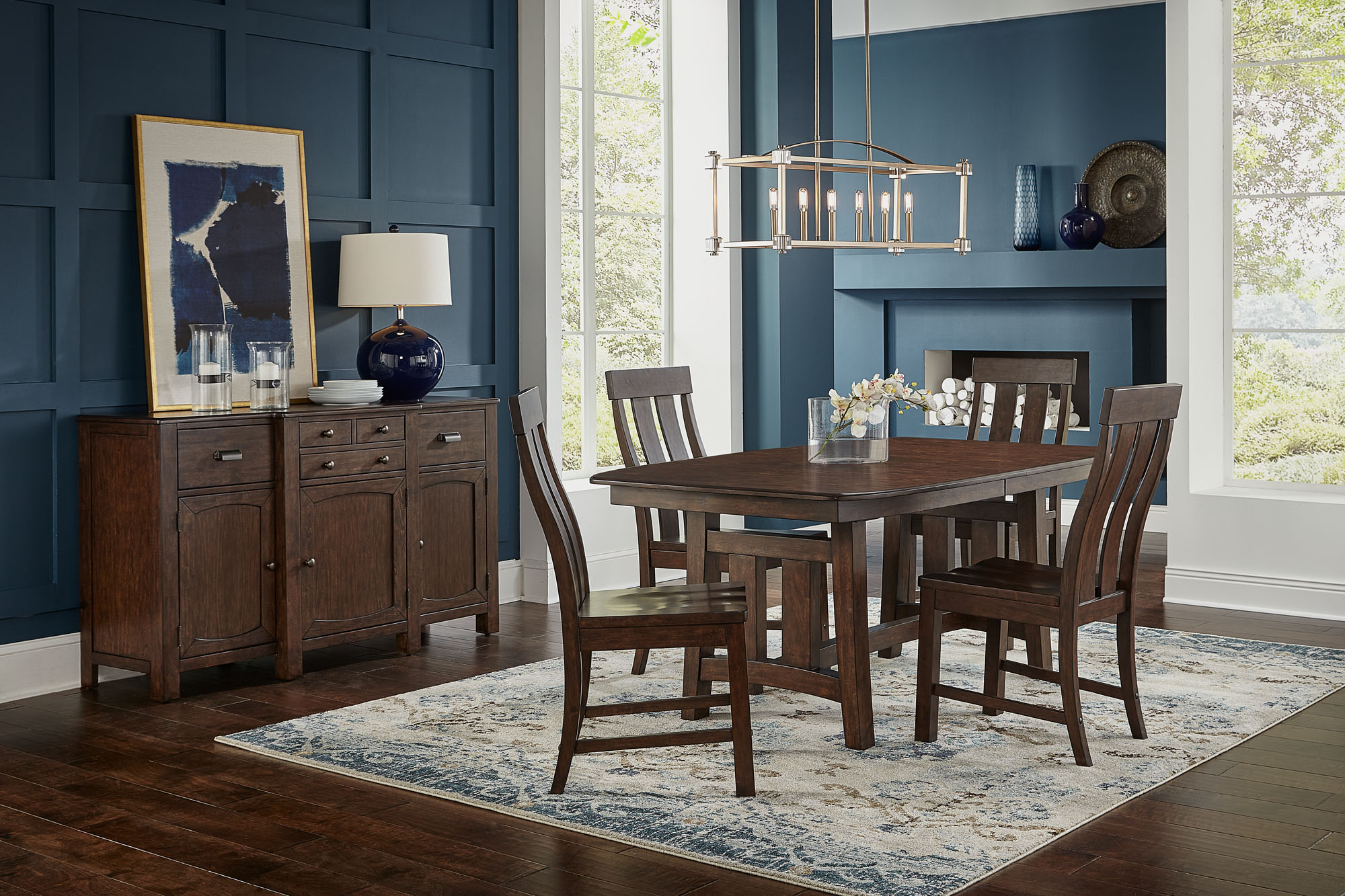 5. Keep comfortability in mind.
Your table should be a comfortable spot for you and your guests to sit for hours. Be sure to try out the chairs before you purchase them. When seated at your table, your guests should have plenty of leg space. We suggest about a foot of space between the seat of the chair and the tabletop.
6. Pick a durable material that fits your style.
A good dining table should last at least 5-10 years, so it needs to be solidly built. Wooden furniture is not only durable, but it is timeless. A wooden table can fit a wide range of decor styles and themes. They are typically warm and inviting and maintain a unique, natural appearance. Keep in mind that not all woods are equal. While hardwoods like oak, maple, walnut, cherry, and mahogany are more durable, softwoods like cedar, fir, and pine may not last as long.
7. Don't forget the joinery.
When you consider the strength of a table, don't forget to consider how well it's built. A table's joinery — the places where the tabletop and base connect — should be solid and shouldn't have too many complicated attachments. Wood-to-wood joinery is typically the strongest.
8. Simple is better.
If your table is too complicated, dressed with extra hooks, attachments, and features, it's less likely to be solidly constructed. The simpler your table is, the better. Pick a table you love that complements your style, and then let it speak for itself!
Looking for a quality dining table? You've come to the right place! Bowden & Carr offers a wide variety of beautiful dining furniture. Stop by or check out our website to browse some items from our selection of gorgeous, high-quality furniture.