The COVID-19 pandemic has taught us many things. It has taught us how to use Zoom for meetings with coworkers, family, and friends. It has taught us to cherish the time we get to spend in-person with our loved ones. It has also taught us to order gifts early so they arrive on time. 
As you look toward the holidays this year, consider the gift of an Amish, handcrafted table. It will not only add some extra beauty to your loved one's life and home but it is also a great way to show your loved one how much you cherish and care for them. Here are six reasons an Amish, handcrafted table is the perfect gift option:
1. Each piece is unique
You would be hard-pressed to find any two pieces of Amish handcrafted furniture that look the same. The coloration, markings, and other natural characteristics of the wood used to build the furniture give each piece its own unique personality. Giving a handcrafted table as a gift is a great way to show your loved ones how special they are to you.
2. Sturdy furniture is a practical gift.
Tables are used by everyone in the household. You can be sure that your gift will be utilized and appreciated. If your loved ones have been holding onto a run-down dining table, coffee table, or desk for a long time, nothing says you care more than a beautiful, handcrafted replacement.
3. The Amish use quality materials.
The Amish make their tables out of the highest quality cherry, oak, maple, hickory, and walnut wood. This means their tables are not only unique and stunning, but they are also sturdy and durable. Handcrafted dining and occasional tables are built to last and to be passed down from generation to generation.
4. Amish tables are American-made.
Amish handcrafted furniture is typically made in America out of natural American materials. Purchasing handcrafted tables will not only bring joy to your loved ones, but it will also support American-based furniture craftsmen. 
5. A table is perfect for someone who likes to host.
For practical reasons, a table is the perfect gift for one of your loved ones who enjoys hosting friends and family in their home. A table can provide space for guests to congregate and/or share a meal. Plus, a beautiful piece of furniture is a wonderful conversation starter. 
6. Good tables bring people together.
The nature of a table is to bring people together for a meal or other sort of social meeting. A nice, handcrafted table can encourage bonding and unity among your family and friends. And what better symbol is there of the ability to reunite after a long period of separation by the pandemic?
If a gorgeous, handcrafted table sounds like a great gift for one of your loved ones, come visit our showroom. We have some stunning desks, dining tables, and occasional tables handcrafted by our Amish brands, Canal Dover Furniture and Y&T Woodcraft.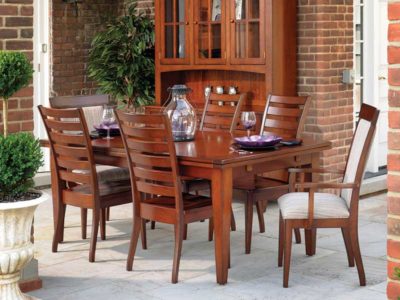 Canal Dover Furniture
Canal Dover creates beautiful solid wood furniture. Family owned and operated out of Millersburg, Ohio, the company was founded by a local farmer and cabinet maker. The stunning furniture is made possible by the expert craftsmanship, exceptional work ethic, and time-tested techniques of the Canal Dover team.
Our Bowden & Carr showroom displays various pedestal and leg dining tables for two, four, or more. We can also help you browse and order from Canal Dover's vast array of unique dining room furniture collections. Here are just a few of the many collections Canal Dover offers: 
Ashville Collection — classic rectangular table for six with a deep, rich, red color and elongated ladder back chairs

Birmingham Collection — grand, round, dark brown table, perfect for larger gatherings of family and friends

Bordeaux Collection — rustic table atop a steel base with chic Aspen chairs or soft Parsons chairs, a perfect addition to modern homes
At this time, when you order a Canal Dover table from us, you will receive your table in only about 6 weeks, an extremely quick turnaround for furniture because of current pandemic limitations.
Y&T Woodcraft
Based out of Apple Creek, Ohio, Y&T Woodcraft creates excellent, modern furniture using old-fashioned craftsmanship. The team at Y&T uses sustainably harvested hardwoods to preserve the environment and build long-lasting furniture. 
You can find a number of Y&T Woodcraft's occasional tables in our showroom, including our popular Bainbridge Accent Table Collection, Capri Writing Desk, and more! Whether you are looking for a unique desk, coffee table, or chair-side table, we've got you covered. Stop by or check out our website to browse our selection of gorgeous, handcrafted furniture.