Whether you're renting a small condo at the beach or just bought your first starter home, you might find yourself wondering how you're going to furnish a smaller space. While it might seem like a challenge at first, furnishing small rooms and homes can be simple.
By measuring your space before shopping and studying the tips below you can find the inspiration needed to design a comfortable and functional small space.
Scale Furniture According to Room Size
If you put something too large in an undersized room, you're only going to make the room look that much smaller. Likewise, undersized furniture can end up making a room look cluttered. Avoid these extremities and choose furniture that looks just right when compared to the size of the room.
Incorporate Multifunctional Furniture
You can avoid clutter and needless pieces of furniture by choosing only those that can suit at least two purposes at once. For example, if you have a small dining room but also need a place to do some work from home, you could opt for a dining room table that will also give you enough room to spread out and work.
Make the Most of Light
If you have a small space with plenty of windows, avoid covering them up with heavy drapery. Or if your space doesn't allow much natural light to flow in, use table lamps to your advantage. Additionally, you can also use mirrors to help distribute light around a smaller room.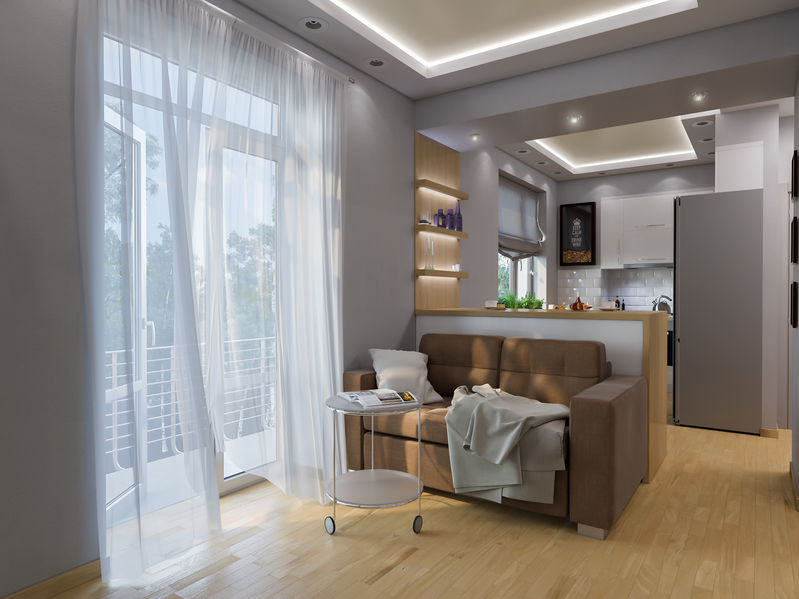 Use Vertical Space to Your Advantage
In terms of storage, nothing saves space like vertical shelving and drawers. Bookcases and dressers make great options for small bedroom furniture, while buffet tables and coffee tables with shelving are perfect for tiny living and dining rooms.
Don't Shy Away from Bold Colors
Many people think the only way to decorate a small space is by using neutral colors, but that's simply not true. A pop of color here and there can help liven up a room and make it feel less bland. Bowden and Carr helps our customers do this by offering sofas and chairs in a variety of La-Z-Boy's colors, textures, and patterns.
Choose the Right-Sized Rug
As we've mentioned before, the size of a room compared to the size of the rug that's in it can have a huge effect on our perception of how small or large a space is. If you're not sure what size of rug will work best for your space, our blog has all the tips you need.
When it comes down to it, you should trust your gut when furnishing a small space. Choose pieces you find comfortable and inviting, and you'll end up with a beautiful room. If you're looking for a little inspiration, stop by our Havelock, NC furniture showroom, or give us a call at 252-447-3648 to speak to one of Bowden and Carr's furniture consultants today!