Spring is right around the corner, meaning it's the perfect time for design and decorating projects around the house! One of the first steps for any home design project is choosing a color scheme.
While the color of your walls is a crucial component of a well-thought-out color scheme, it's also important to consider how things like furniture, fabrics, and other textiles factor in. Whether you're swapping out a few pieces of furniture, redesigning an entire room, or preparing to sell your home, we've got all the tips you need to create a beautiful and functional space full of color!
1. Consider the largest pattern in your space.
Before you start selecting colors, take a look at any patterns you may be including in the room. For example, looking at the colors in a large patterned rug or sectional sofa can be a great jumping-off point for decorating the rest of your space.
2. Decide if you prefer warm or cool colors.
Whichever you choose is completely up to personal preference. Warm colors include reds, yellows, and oranges, while cool colors include blues, greens, and purples.
3. Consider the natural lighting in the room.
This can have a huge impact, not only on the colors you choose but how those colors look when paired with sunlight. North-facing rooms get the smallest amount of sunlight, which means warm colors can help them feel brighter. East-facing and west-facing rooms get the most light in the morning and afternoon respectively and tend to go well with a variety of colors. South-facing rooms get the most sunlight of all, making even the darkest colors look bright and vibrant.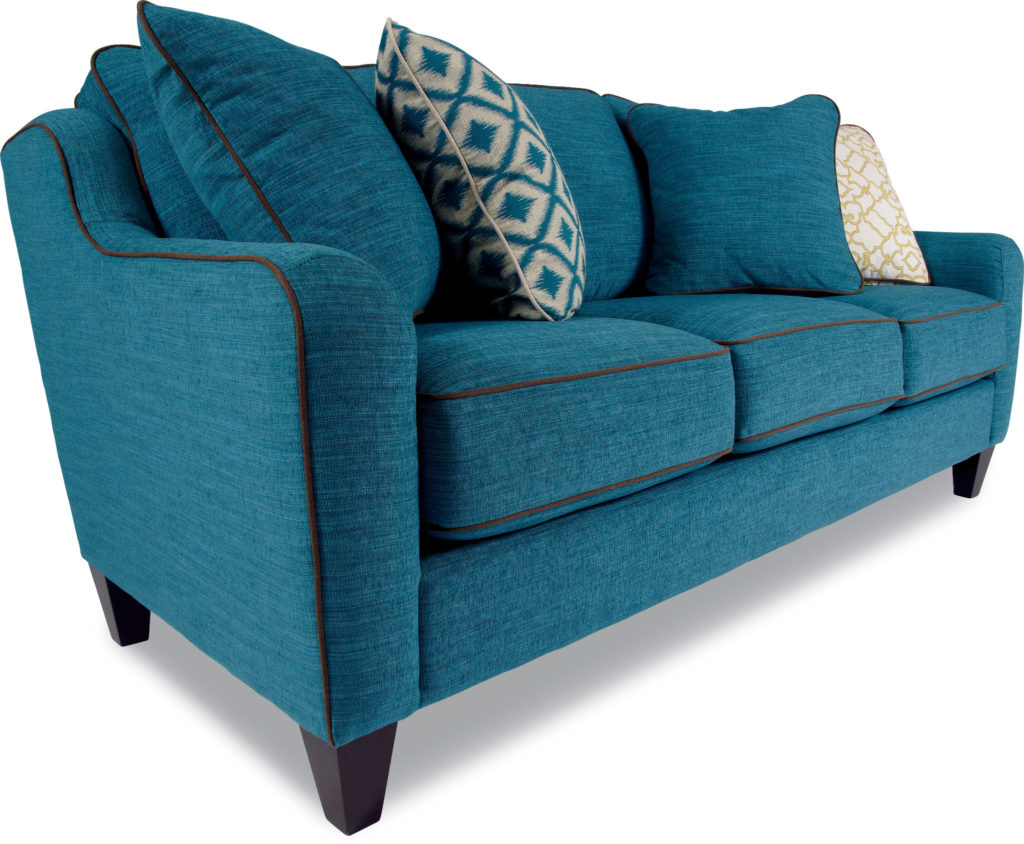 4. Don't be afraid to mix textures.
As your local La-Z-Boy showroom, Bowden & Carr carries recliners, chairs, sofas, sectionals, and rugs in a wide variety of textures to help give whatever space you're designing a rich, composed feel. And remember smoother textures seem to reflect light, while coarser textures seem to absorb light and feel a little heavier.
5. Follow your heart.
Perhaps more important than anything else is asking yourself the question "What colors do I like most?" After all, your redesign isn't going to spark joy if you choose colors you don't like! If you're wanting a cozy feel, choose some warm colors that make you feel comfortable. For a cooler, more relaxed feel, try selecting a blue or green you like.
6. Use the color wheel to make your palette.
Now that you've taken into account the colors, patterns, and textures your room will have, it's time to make your choice! Use the rule of three to select three complementary colors and take advantage of a color scheme generator to give you some ideas for which shades and hues you prefer. Once you have your colors, use the 60–30–10 rule to determine how you'll use them. This rule states 60 percent of your room (walls and larger pieces of furniture) should incorporate your dominant color, 30 percent (upholstery, textiles, and smaller pieces of furniture) should use your secondary color, and 10 percent (accessories) of your room should incorporate your accent color.
7. Test your colors out before committing.
La-Z-Boy offers free design services to all of its customers. That means you can use their 3D room planner to get a concrete idea of what your new space will look like, or you can order some free fabric swatches to figure out which textures, patterns, and colors work best for you. And of course, you can always stop into our Havelock, NC furniture showroom, or give us a call at 252-447-3648, for help creating your new space!