There are plenty of advantages to working from home. For example, you can dress a little more casually, grab a snack whenever you want, and enjoy the comfort of working in a space that's, well, not a cubicle.
However, as people are working from home more often due to the COVID-19 pandemic, and with more companies allowing remote work in general, there is one challenge many work-from-home employees face: designing the perfect home office. At Bowden & Carr, we understand comfort is key, which is why we've compiled a list of tips for creating a home workspace that caters to productivity, efficiency, and comfort.
1. Choose the Right Space
Ideally, you would be able to set up your home workspace in a separate room with a door, as opposed to a family room or bedroom. Having a dedicated office will give you separation between work life and home life and help you cut down on distractions from TVs, kids, pets, etc. Additionally, you'll want to choose a space big enough to accommodate all your supplies while still leaving you enough room to move around comfortably. If customers or clients will be visiting, be sure to keep them in mind as well.
2. Start Laying Things Out
Once you've chosen a space, determine what your specific needs are and try to focus on creating multiple "rooms" within your office to accommodate those needs. For example, you might want a relaxing sofa area where you can meet with clients, a table or desk for working on the computer and packing orders, or a reclining La-Z-Boy chair you can use for brainstorming sessions or breaks.
3. Get Technical
One of the biggest problems many remote workers face is not having enough electrical outlets to sufficiently power their home office. Fortunately, this issue can usually be solved by purchasing a few high-quality surge protecting power strips. Additionally, you'll want to make sure your home wifi is fast enough to accommodate your needs and consider investing in any smart appliances or home automation products that may help keep you productive.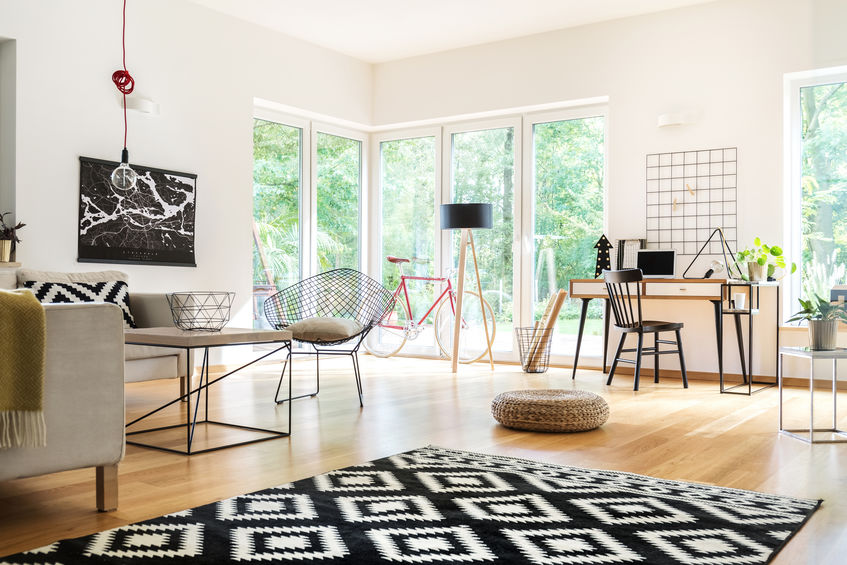 4. Choose Furniture with a Purpose
Chances are your home office is going to be fairly small, so it's important to choose furniture that suits multiple needs. For example, a pull out sleeper sofa can be used for naps during the workday or for guests who come to town. A table can do everything a desk does, but also gives you a place to eat lunch.
5. Liven it Up
Incorporating as much natural light as possible is important both for your mental health and your productivity levels. In addition to natural light, you should consider ditching the traditional desk lamp in favor of something more versatile, like a table lamp on a nice end table. You can also do a lot to brighten up your workspace by choosing color schemes that can boost your energy, like red, orange, and other warm colors. Additionally, live plants are a great way to brighten up any room!
6. Keep it Tidy
Never underestimate the power of storage solutions. Nothing contributes more to increasing productivity than a clean, neat office. Think carefully about the type of storage you need. For instance, are you going to be filing a lot of paperwork or do you need organizational solutions to help you store your products and packing materials? Regardless, multifunctional storage solutions, like benches that double as storage chests, are always a good move.
7. Consider the Tax Deductions
Depending on your situation, you may be able to take a deduction based on the square footage you use for your office space. You may also be able to deduct things like office furniture, internet costs, electronics, property taxes, and other utilities.
At the end of the day, the most important thing to keep in mind when designing your workspace is making sure you like it. Fill it with things that make you happy, like your kids' artwork, family photos, or memorabilia from trips and vacations. And make sure it's comfortable!
Bowden & Carr has plenty of seating solutions to help you create a home office that's comfy and cozy, from La-Z-Boy chairs to couches and beyond. Check out our Havelock, NC furniture showroom, or give us a call at 252-447-3648 to speak to one of our furniture consultants today!