Though it's probably one of the last things you may think of when decorating a room, the type of tables you choose (and the way you style them) can have a tremendous impact on the cohesiveness of your final design. End tables, nightstands, and coffee tables often make the perfect finishing touch to a design since no room is really complete without them.
Unfortunately, these surfaces often end up becoming a dumping ground for clutter. In order to avoid this, and enhance the overall look of your room, the best course of action is to take a little time to decorate your end tables and use them to accentuate your room's style.
How to Decorate End Tables
Regardless of your personal style, there are plenty of general tips and tricks you can use to help you create the perfect design for nightstands, coffee tables, and end tables of any shape or size!
1. Use decorations of different heights.
This gives your table some variation and dimension. Choose one very tall item to be the focal point of your table, like a plant or a lamp. Then choose a few medium and small-sized items, like picture frames or books, to accent the larger item. If you have a table behind your La-Z-Boy couch, you'll want to be especially careful to decorate it with items that are taller than your sofa.
2. Create symmetry for mismatched tables.
Just because they are in the same room doesn't mean your tables have to match each other, but they should be roughly the same size and shape. If you have mismatched tables, try to give them something in common, like matching lamps or picture frames, to help the design mesh together nicely.
3. Incorporate decorations that are functional.
Baskets or trays are a great way to do this! They're beautiful and they can hold things like coasters, blankets, candles, magazines, television remotes, and more. Plus, if you need to move them, they're easy to move out of the way.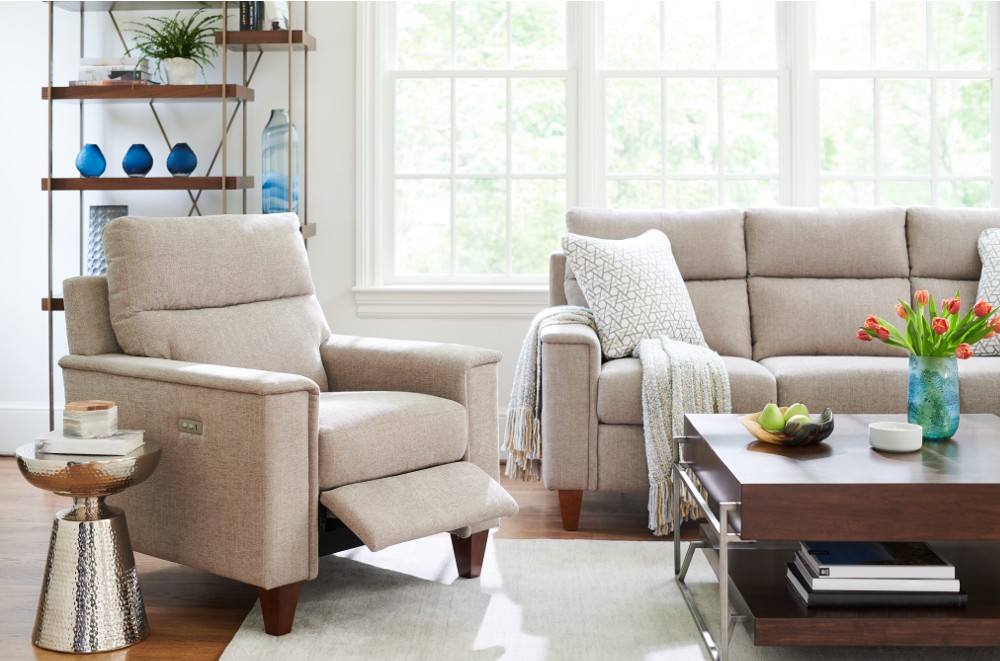 4. Go green.
Adding plants is a classic way to add style to your end tables while incorporating a little of nature. Whether you choose a real or artificial plant or flower, this is the perfect way to add color and texture to your end table design. If you need a tall item, go for a big, leafy plant like a fern. Or, if you need something smaller and colorful, try a little succulent or potted flower!
5. Use lamps for tiny tables.
Remember, your design should be functional and beautiful. If you have a tiny end table that will only fit a small lamp, then go for it! Just make sure that the lamp really adds to your design and helps pull the room together.
6. Use the "visual triangle" rule.
This classic rule can help in just about any situation you might struggle with in terms of design. By using a combination of height and item placement to form a triangle, you'll create a visually interesting design scheme that will trick everyone you know into thinking you hired a professional interior designer.
7. Less is usually more.
Remember, clutter is what we're trying to avoid. If you're not sure how many items to decorate a table with, simplicity is usually the best option. Choose your tall item and then 3-4 additional decorations (based on the size of the table) to complement it. Anything more than that and you'll risk your table looking messy.
Have end tables, but looking for the perfect furniture to go with them? At Bowden & Carr, our store is filled with an extensive selection of La-Z-Boy sofas and chairs in every color, texture, and style imaginable. Come on in or check out our online inventory to see what we have in stock!