When it comes to living room furniture, nothing can impact your space more than a couch. Not only are couches typically the largest pieces of furniture in the room, but they're also one of the best ways to incorporate the colors, textures, and overall style and "feel" you've established throughout the rest of your home.
In the world of couches, there are two main options to choose from: a traditional sofa or a sectional. Though it may not seem like it, this is a pretty big decision to make. Whichever piece you choose will most likely be a part of your home for several years, so it's crucial to understand the differences between sofas and sectionals to ensure you make the decision that's right for your family.
What's the Difference Between a Sofa and a Sectional?
A sofa is a single piece of furniture, designed in either a straight or curved line, that traditionally has between one and three cushions. Sectionals combine two or more sofas, or a sofa with a chaise lounge, together, typically in a U or L shape.
Pros and Cons of Sofas
Traditional sofas are just that – a classic furnishing option. The biggest advantage of choosing a sofa for your home is that it offers you a ton of flexibility. Sofas allow you to incorporate a reasonable amount of the colors and textures you want without overpowering the room, whereas a sectional in all one color/texture can become overwhelming because of its size.
Size is another advantage that sofas have. They offer a decent amount of seating with a simple shape that can usually be used in many different furniture arrangements and configurations. Plus, you can easily match with additional seating options, like chairs, benches, stools, or ottomans. Or if your room is smaller, or if you have a lot of windows, doorways, or hallways to contend with, a sofa is an excellent option for ultimate comfort without taking up all of your space.
As far as the disadvantages of sofas go, the issue that many people have is that a sofa just doesn't provide enough seating. This can be a blessing in that you can use other furniture to amp up your room's style, but a curse in that this would require you to do extra design work and spend extra money on additional furniture. The only other downside to owning a sofa is that, while it may allow one person to lie down and stretch out, it can rarely accommodate more than that. If you want a way for more than one person to take a nap, a sofa may not be for you.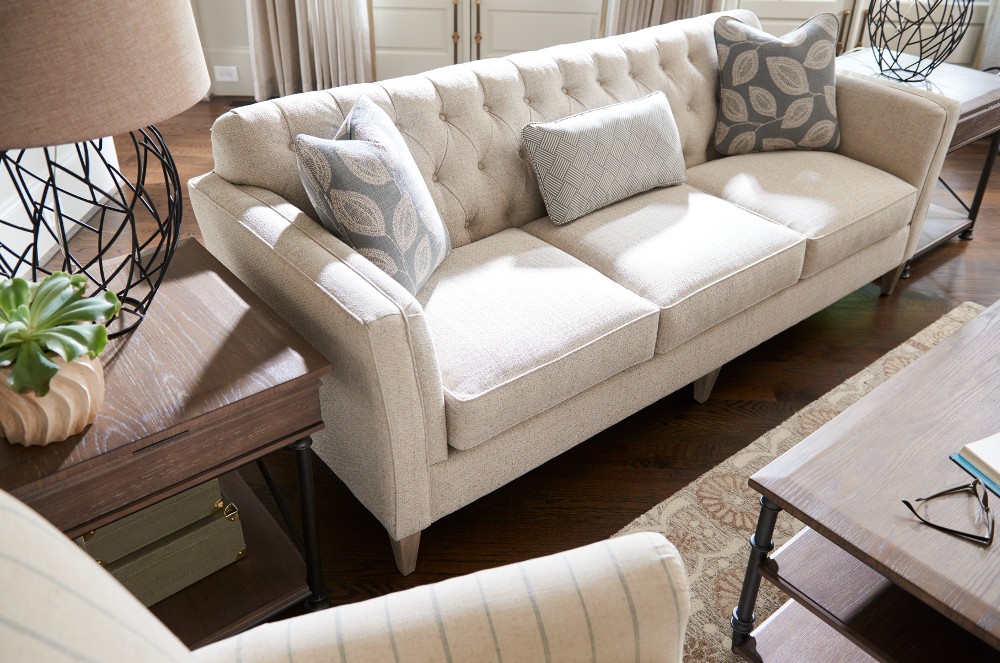 Pros and Cons of Sectionals
If you want to save some space, sectionals have you covered. Their neat and tidy design means they can easily be tucked into a corner or a long, narrow space, which is probably their biggest advantage. Sectionals are a little bit less formal than sofas, creating an environment with a more inviting, relaxed feel. They also let you, and usually at least one other person, really stretch out and lay back. In short, if you're looking for a couch that will provide plenty of seating, fit in a tight space, and give your room a chill vibe, a sectional is your best bet.
That said, sectionals do have a few cons. Despite the extra seating, some people find sectionals to be a little cramped in that they can often force several people to sit very closely together. Others find that the corner space of a sectional isn't viable as an actual seat since it would force the person sitting there to cross their legs. Sectionals can also be a bit awkward in terms of shape, so, unless you buy a sectional that can be taken apart and reconfigured, they generally will only fit one or two ways in any given room.
How to Choose between a Sofa and a Sectional
At the end of the day, the right choice really depends on your space, your family's needs, and your personal preferences. If you're still having trouble deciding, ask yourself these two important questions:
Who is mainly going to be using it?

If your goal is entertaining, you might want to opt for a sofa…or two! If you're going to be using your new couch for family movie nights, a sectional is probably a better choice.

What kind of space are you working with?

Small, square rooms or rooms without a lot of space lend themselves better to sofas, whereas long, narrow rooms or very large rooms can easily accommodate a sectional.
Let Us Help You Choose
If you're looking for a new couch in Havelock, NC, or the Jacksonville, NC area, Bowden & Carr has countless options to suit nearly any need. Visit our store, browse our online inventory, or give us a call at 252-447-3648 and we'll help you pick the sofa or sectional in the right color, texture, and style for you.