Area rugs are a beautiful way to round out a space and put the finishing touches on nearly any interior decorating project. The perfect rug and a not-so-perfect rug can be the defining factor between a room that feels cohesive and warm and one that feels awkward and cold.
The only problem is that, with so many choices out there, it can be hard to narrow down exactly which type of rug is best for your space. Plus area rugs are a big investment, given their cost and the fact that they are designed to last for many years, which is even more of a reason to make sure you select the right one.
At Bowden & Carr we work with Capel Rugs, one of the biggest and most reputable names in the rug industry. Our partnership with them allows us to provide our customers with endless options, including a wide variety of colors, shapes, textures, and styles. You can see some of our Capel rug samples online or stop into our showroom to take a look for yourself!
Rug Buying Guide
When helping our customers, we start off by going down the list of rug buying tips and things to consider, like:
Size
First and foremost, you have to figure out what size of rug you'll need. If you're going to be putting your rug in a seating area, such as a dining room or living room, you'll want to choose a rug big enough that all or most of the furniture can sit on it. The general rule of thumb is that all four legs of chairs and couches should be on the rug, but at a bare minimum, you need to make sure the front two legs are on the rug.
If you favor a smaller rug, just make sure that it is sized in such a way that smaller tables or nightstands aren't sitting awkwardly half on/half off of the rug. If you're struggling to imagine how a rug will look in your space, use painter's tape to mark out various sizes on the floor and see which you like best!
Orientation and Shape
Once you have a rough idea of your size range, consider the shape of the room the rug will go in. If you have a rectangular-shaped room or seating area, it's best to choose a rectangular or oval-shaped rug and make sure it is oriented in the same direction as the room. Smaller square rooms can easily be furnished with either a square rug or a circular rug.
Material and Texture
Mixing and matching textures is a sure way to make a room really come together. In general, if your furniture is sleek and smooth (e.g. leather) then you might consider choosing a fluffier, taller-piled rug. If you have softer furniture (e.g. velvet) and fluffy pillows, a low pile rug will help balance things out.
You must also consider things like where your rug is located in your home, how easy different materials are to clean, and how much wear and tear your rug is likely to suffer during the course of its life. And, of course, the type of material you choose will have a big impact on the prices of rugs. Capel Rugs has countless options when it comes to both rug construction and material, from acrylic and cotton rugs to wool, nylon, olefin, and more.
Plain or Patterned
Like balancing textures in the room, you'll want to be careful to do the same with patterns and solid colors as well. If most of your furniture is patterned, choose a solid rug and visa versa. Plain rugs are also a better choice for furniture and rooms that are more ornately decorated. Of course, at the end of the day, the choice is really up to you!
Color
Now that you've got everything else sorted out, you can finally take the final step toward choosing a rug – picking the color! When selecting rug colors, make sure you consider all of the other aspects of your space, including the floors, walls, lighting, and other furniture.
If you've chosen to go with a solid color, match it according to the scheme you've utilized in your colorful furniture and interior design choices. If you're using a patterned rug, matching the secondary color of the pattern to the color of the largest piece of furniture in the room (bed, sofa, etc.) is a good way to go.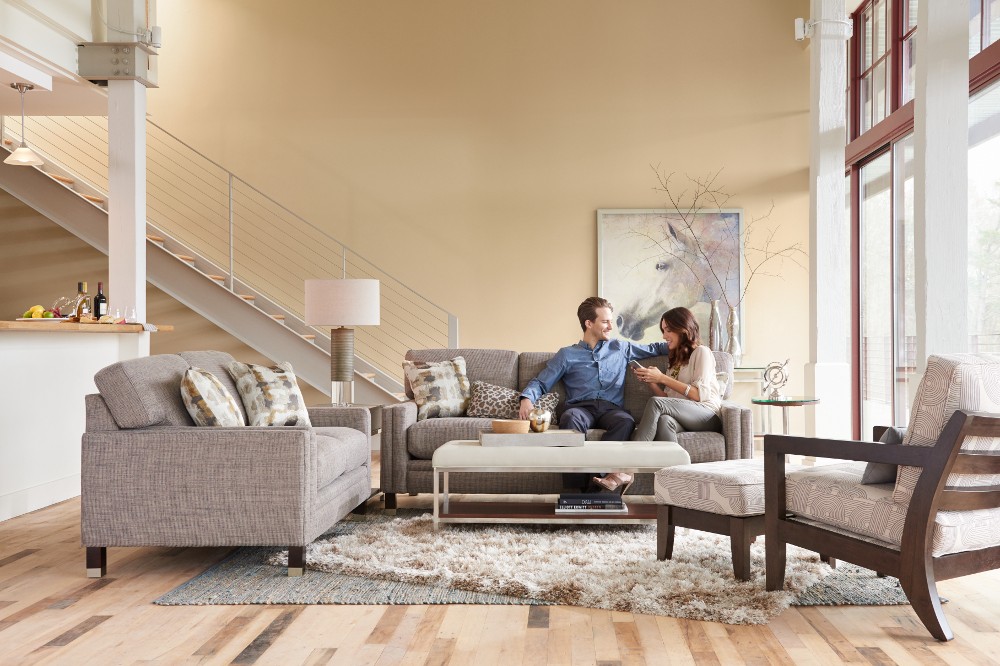 Area Rug Placement Tips
Many people pick out a new rug and have it delivered only to find that they aren't quite sure how to position it. Fortunately, with just a few simple tricks, you can ensure your rug looks great in any room:
Living Room Rug Placement
In the living room, rugs are used as an anchor for the rest of your furniture. Ideally all of your seating would have all four legs on the rug, but you must have at least the front two legs on the rug for it to look good. Also, your rug shouldn't take up the whole living room. Try to leave a minimum of 12 inches between your rug and the walls on all sides.
Dining Room Rug Placement
You want a rug for your dining room to be big enough that your chairs stay on the rug, even when they are pulled out from the table. A good rule of thumb is to make sure the rug is at least two feet larger on all sides than your table is. And don't forget to take into account whether your table is expandable or not!
Bedroom rugs belong either under the entire bed and any nightstands or underneath the front two-thirds of the bed only. You should also choose a size a couple of feet larger than your bed. If you don't have room for a rug that large, consider using a runner on the side(s) and/or foot of the bed.
Remember, if you're looking to spruce up your space with a new rug, come on in and meet the team at Bowden & Carr Furniture! Contact us online for more information or give us a call to speak to one of our furniture consultants at 252-447-3648.