Most people put a lot of time into furniture shopping. They plan carefully to make sure their new piece will fit in their room and match their walls and other furniture, all while putting them comfortably inside their budget. Imagine doing all this work and having your new furniture delivered only to find a stain on it just a few weeks later.
Accidents, spills, and stains are a part of life, and, try as we might, sometimes there's just no preventing them.
What Fabric Protector does Lazyboy Use?
Fortunately, La-Z-Boy's iClean™ fabric offers a practical solution for protecting your furniture from the worst life can throw at it – iClean Fabric.
What is iClean Fabric?
During the manufacturing process, La-Z-Boy's iClean™ fabric is submerged in a special fluid. Each fiber becomes fully soaked in this magical stain-resistant solution which, once dried, provides an unparalleled layer of protection for your furniture. It doesn't matter whether the stain is caused by a pet, child, food, or liquid. The iClean™ fabric repels everyday household stains and makes cleanup a breeze.
Advantages of Stain Resistant Furniture
Even though it does cost a little more than your average upholstery, there are countless pros to choosing a stain-resistant piece of furniture that's covered in La-Z-Boy's iClean™ fabric. For example:
1. It's unbelievably easy to clean.
Obviously stain resistant furniture is easier to clean than regular fabrics are, but iClean™ fabric takes it to a whole new level. For instance, most liquid spills on iClean™ fabric simply bead up or are repelled from the fabric entirely. Those that aren't can be easily cleaned up by gently blotting the affected area with a rag or paper towel. Non-liquid stains, like dirt, ketchup, and chocolate typically only require soap and warm water to remove or, at most, a gentle scrub with a non-metallic, soft-bristled brush. Click here to learn more about how to clean La-Z-Boy's iClean™ fabric.
2. It comes in a wide variety of colors, patterns, and textures.
Most stain-resistant furniture makers offer some basic colors in a few different textures and leave it at that. La-Z-Boy, on the other hand, offers their iClean™ fabric in over 110 different patterns and colors, and a variety of textures, so you can find the perfect match for your room and style.
3. It's soft and comfortable.
A lot of stain-resistant fabrics that are available today have been treated in such a way that they often end up being stiff or scratchy. La-Z-Boy's iClean™ fabric is treated with a solution that's not only safe for your whole family, but cozy, comfortable, and soft to the touch.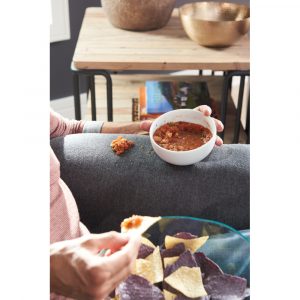 4. Having iClean™ fabric means you can actually use your furniture.
So many people have to choose between an expensive, high-quality piece of furniture that they're afraid to use for fear of damaging it or sacrificing comfort in favor of a cheap, poorly-made piece that they don't mind damaging. La-Z-Boy's iClean™ fabric fixes both of those problems since it's both high-quality and can easily fit into any budget. Plus, since it's so easy to clean, you can use your new couch or chair as much as you want without worrying about staining it. After all, that's what they're for!
5. No more kid or pet wrangling.
Whether you have kids, a fur baby, or both, you're probably pretty tired of trying to keep them from eating popsicles on your couch or jumping into your favorite chair with muddy paws. Now, instead of yelling "NO!" every five minutes, you can relax knowing that you'll be able to remove any stains in a jiffy.
6. You don't have to sacrifice comfort or style anymore.
Many parents opt to buy cheaper furniture figuring that one day, a long time from now when the kids are out of the house, they'll be able to invest in stylish furniture instead of buying a bland, build-it-yourself solution. Since La-Z-Boy's iClean™ fabric is easy to clean and comes in so many different styles, sacrificing beauty for functionality is a thing of the past.
Finally, La-Z-Boy's iClean™ fabric comes with a three-year limited warranty that covers a variety of different types of stains. This fabric is truly designed to stand the test of time. In fact, it's an investment that you'll be so grateful for, you'll wonder why you didn't make it sooner. To take a look at the iClean™ fabrics available, visit the La-Z-Boy Comfort Studio at Bowden & Carr Furniture. Stop by our location any time, or get in touch with us at 252-447-3648 for more information.