Shopping for new furniture can be a lot of fun, but it can also be stressful at times, especially if you are furnishing several rooms, an entire house, or a large office space. Regardless of whether you're buying furniture online or in a store, there are a lot of considerations that must be made in order to ensure you're choosing the perfect piece of furniture for you.
Fortunately, a little preparation can go a long way toward making the furniture-buying process more enjoyable, and Bowden & Carr is here to help. With over 60 years of experience selling furniture in Havelock, NC, we have plenty of advice to lend and a furniture shopping checklist that's guaranteed to make your experience easier than ever.
Furniture Shopping Tips
To avoid being overwhelmed, here's what you need to remember before buying new furniture:
Take inventory of what you need. We all know that it's a terrible idea to go grocery shopping without a list, and the same is true for furniture shopping. Without a list, you risk forgetting something you need and/or being distracted by something you don't. Before you head to our showroom, make sure you jot down your must-have items and bring your list with you.
Contemplate what your style is. Or, if you're looking to switch things up, what you want your new style to be. Do you prefer a more whimsical look with fun colors and lots of different textures? Or maybe you're a minimalist who likes neutral tones and a more industrial look. Regardless, having a picture in your mind's eye will be helpful to you on the showroom floor.
Consider your lifestyle. When it comes to furniture, everyone needs something a little different. A family is going to need to look at different types of couches than someone who is living alone. Furnishing a rec room is going to require more functional pieces, whereas an office space may require more decorative pieces of furniture.
Don't forget about your existing furniture. If you're just looking for a couple of pieces to complement what you already have, it's important to envision how a new piece of furnishing will fit in with older ones. You may even consider going so far as to take pictures of the room you're furnishing (or closeups of the furniture already in it) to make shopping easier.
Color is crucial. Just as it's important to match old and new furniture styles, you want to make sure your colors match up as well. And you don't just need to make sure the color of your new furniture works with your old furniture; you also have to consider the color or your floors and walls.
Choose materials wisely. Whether you have kids and/or pets should not only factor into the style and type of furniture you choose but also the materials they're made out of. For example, if you have pets, you may want to avoid leather furniture, since it could be easily torn or scratched by an animal. Regardless of your lifestyle, you can never go wrong with a strong fabric that's easy to clean and durable enough to withstand some wear and tear.
Focus on quality. Ideally, the furniture you buy would last for many years to come, but that's only going to happen if you buy well-made, high-quality furniture from reputable companies. At Bowden & Carr, we work with only the best in the furniture world, like Hammary Home Furnishings, John Thomas Furniture, and La-Z-Boy.
Comfort is key. Obviously you shouldn't ignore how comfortable a piece of furniture is to use. After all, ergonomics are important too! If you're replacing an old piece of furniture because it's uncomfortable, try to identify why you feel that way about it. When you're shopping around, make sure to take the time to sit down on each piece of furniture you're considering and really put some thought into whether it's comfortable for you.
Measure, measure, and measure again. We can't stress how important it is to measure the space you're going to be furnishing and make absolutely certain that whatever you want to buy will fit in it. There's nothing worse than ordering a piece and having it delivered only to find out that it won't fit or that it doesn't look right because it's too big/small.
Try a custom solution. Whether you have unique needs or just can't seem to find what you're looking for, a custom solution may be just what you need. For example, Bowden & Carr customers have the ability to take advantage of La-Z-Boy's design services to create a totally customized solution based on exactly what you want and need.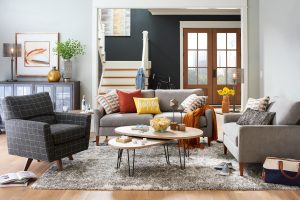 Once you've taken everything else into account, the very last step is to figure out exactly what your budget is. At Bowden & Carr, our furniture consultants are always on hand to answer questions, offer advice, and help you find a piece that's perfect for your home and your budget. Get in touch with us today at 252-447-3648 or swing by our showroom at 211 US-70, Havelock, NC 28532 to see what we have in stock!