Are You Interested in Home Furniture?
Bowden & Carr Furniture is your one-stop-shop for home furniture!  We believe that purchasing the right furniture for you can lead to an overall improvement in your life and, of course, make your home look beautiful.  At Bowden & Carr, we specialize in home furniture for all the different rooms in your house, as well as home accents and accessories for the perfect finishing touch. Whether you're in the market for an updated recliner for the living room, or a new table for the dining room, or to redecorate the whole house, we are excited to help you every step of the way.  We have a wide selection of home furniture on display in our showroom, but we can also custom design the perfect piece of furniture for your home.
Bowden & Carr Furniture is Havelock's premier home furniture store.   Since the 1950's we have proudly provided quality home furnishings and accessories to Havelock and the surrounding areas.  As the largest La-Z-Boy comfort studio in Eastern North Carolina, we offer an unparalleled amount of home furniture choices in Havelock.  However, if that isn't enough for you to find the perfect piece, we also offer the La-Z-Boy Design center, where you'll find everything you need to create the perfect custom piece!  Talk about unique!  We are the only home furniture store in Havelock that offers this customization option.
The Ultimate in Home Furniture Comfort… The Recliner!
La-Z-Boy Recliners have been the industry standard for comfort and style since 1928.  La-Z-Boy Recliners are offered in over 900 fabric and leather options. From microfiber fabric recliners to the legendary leather reclining chairs, you're guaranteed to find a style that's perfect for your home. What if you're looking for a more traditional La-Z-Boy Recliner? Choose the simple lines of a mission style recliner!  Prefer a modern look La-Z-Boy Recliner?  The Designer Choice line of chairs includes high leg, rich velvet and fabric reclining chairs in unexpected colors and prints. Only genuine La-Z-Boy recliners put your comfort first with quality that's built to last.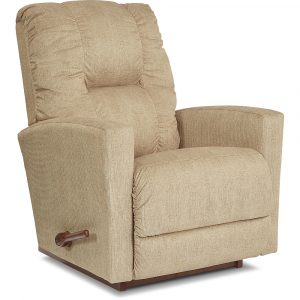 If you're interested in purchasing a new recliner for your home but the price tag has been holding you back, you will be interested to hear that we frequently put different styles/models of our recliners on sale!  Be sure to view our current sales and review our most recent sale fliers, which highlight various types of furniture, and often include recliners on sale!  We recently held our annual Labor Day Sale, which featured our popular Vail Rocking Recliner on sale for only $399 (that's a savings of $150!).  If you are shopping for someone who requires a little bit more assistance, our reclining lift chairs are also on sale starting at $849.  Bowden and Carr Furniture would love to help you find the perfect recliner on sale, so stop in today!
Finding a recliner in a store near you, rather from ordering online, will often save you costs on shipping, in addition to the added benefit of personal customer service!  If you live in Eastern North Carolina, you might find yourself sounding like Dorthy at the end of The Wizard Of Oz "There's no place like home, there's no place like home, there's no place like home!" but instead your wishing for "A recliner store near me, a recliner store near me, a recliner store near me!" Well, put on your Ruby Slippers (or your bedroom slippers) and follow the yellow brick road (a.k.a. Highway 70) over to Bowden and Carr, your "recliner store near me!"
A recliner store located in Havelock is perfectly situated to be convenient to Morehead City, New Bern, Jacksonville, and all of the surrounding areas!  Shopping at a locally owned recliner store in Havelock means supporting a local, family-owned business.  We know that there are other recliner stores scattered across North Carolina, but we are so thankful that you have chosen our little recliner store in Havelock!